Online Services
NYCIRB's Online Products helps you navigate through our Research and submit your data.
Online Services Overview
State of the System Report
A new interactive report on the New York State workers' compensation marketplace.
State of the System Report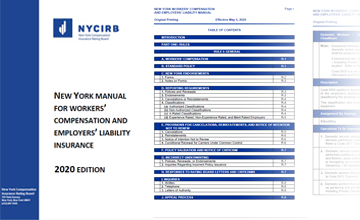 What We Do
The New York Compensation Insurance Rating Board (NYCIRB) is a non-profit, unincorporated association of insurance carriers, including the State Insurance Fund.
1. Data Collection
We collect the payroll, premium and loss data from each carrier.
2. Analysis
Our actuaries crunch the numbers and analyze this data to develop an adequate loss cost structure.
3. Publishing
We make filings with the New York State Department of Financial Services and publish research, reports, and State of the System updates.
Find out More About the Board